QuaD-Rx TM is now released !
Gnss IP.tech is pleased to announce the release of its new IP-core module QuaD-Rx TM.
QuaD-Rx TM is a GPS, GALILEO, GLONASS and BEIDOU quad-constellation GNSS signal processing IP-core module designed to operate on current low-cost and low-consumption embedded platforms based on multi-core ARM processors and small FPGA/SoC devices.
QuaD-Rx TM is a integral commercial offer including technologies and expert-based engineering services given the opportunity for electronic device manufacturers and integrators to step up their products in the value chain by integrating GNSS-based Positioning, Navigation and Timing (PNT) technologies.
QuaD-Rx TM provides the opportunity to implement PNT and GNSS features into your systems using a customized and robust IP-core tailor-made accordingly to the perfect trade-off between complexity and your requirements.
QuaD-Rx TM is the combination of about forty unit IP-core modules developed by Gnss IP.tech, including advanced functionalities such as anti-spoofing and Assisted-GNSS.
QuaD-Rx TM is available as evaluation or development kits implementing the IP-core on COTS boards including the Broadcom B2837 ARM processor (Raspberry PI 3 B et B+) or the Xilinx Zynq 7Z010 SoC (Trenz Electronic TE0726-03M), or on PC.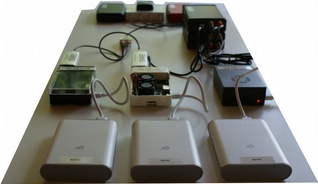 Please visit the QuaD-Rx TM product web page on https://gnssip.tech/quad-rx